Inmate labor may alleviate Nevada housing shortage, but critics question low wages
By Naoka Foreman
https://thenevadaindependent.com/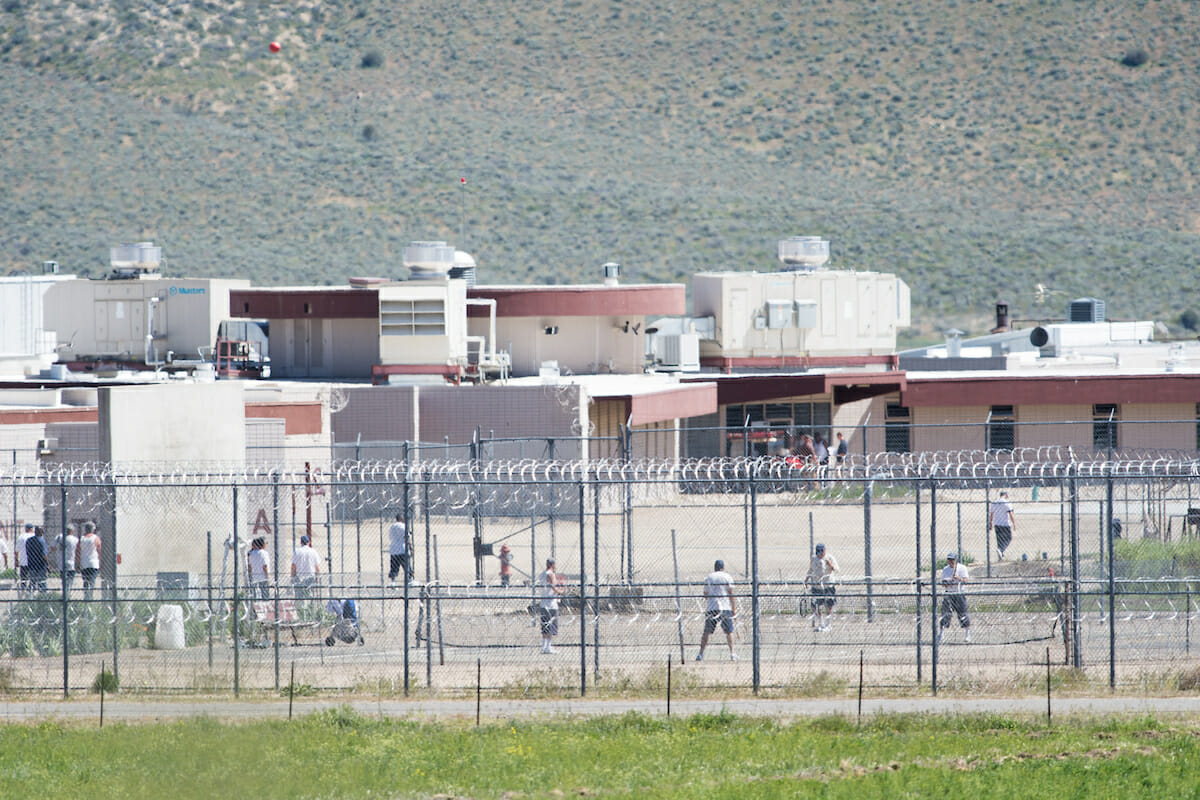 Inmates in the yard at the Northern Nevada Correctional Center in Carson City on May 19, 2017. Photo by David Calvert
A plan to employ inmates to build homes for parts of rural Nevada will expand the list of work opportunities available to people behind bars, although advocates including a state senator have raised concerns that incarcerated workers are not being paid fair wages.
Nevada prison leaders are seeking to expand the inmate workforce as many companies face an employee shortage. At two different meetings in April, Bill Quenga, deputy director of the prison system's Silver State Industries program, discussed new inmate employment contracts that would put "offenders" to work building affordable housing, which he described as a win-win situation: Inmates gain marketable new skills while providing labor-strapped companies with workers.
"We can't get carpenters and electricians out in these rural communities," said Quenga. "It costs a lot."
But state Sen. Dina Neal (D-North Las Vegas) warned lawmakers last year that the Nevada Department of Corrections (NDOC) was engaging in exploitative practices similar to convict leasing, a practice that continued after chattel slavery was abolished but kept incarcerated African Americans working unpaid for large plantations and private companies.
She sponsored a bill last year that would have required the state to pay incarcerated workers at least the state's minimum wage — which is $8.75 an hour if the employer offers qualifying health benefits — but the bill died without receiving a vote.
Quenga said he recently traveled to Boise, Idaho, to tour a correctional manufacturing company housed in an approximately 250,000-square-foot building where prisoners made modular affordable homes. He intends to bring what he learned to Silver State Industries to build homes in rural Nevada.
He said these opportunities are good for inmates and that it gives them something positive to look forward to while incarcerated. Quenga added that, during the pandemic, inmates helped the state with the personal protective equipment shortage, manufacturing hand sanitizer and other essentials.
"We need to provide them what we can in here to be [a better] person before they're released," said Quenga.
Silver State Industries is a private enterprise that earns revenue for NDOC from the labor of approximately 560 prisoners, or about 5 percent of the total prison population. Together with Western Nevada College, Nevada Builders Alliance and Nevada Rural Housing Authority, leaders at Silver State Industries plan to train inmates to take on roles in the construction, plumbing and electrical sectors in Northern Nevada.
"The age group in the construction industry is close to retiring. There's a lack of future skilled construction workers in the state," Quenga said. "In working with Nevada Builders Alliance, these offenders will have the skills to backfill the lack of workforce."
Construction operations are in the early development phase of design and costs in Carson City to manufacture modular housing in Mesquite, Carlin, Wells and Ely.
Quenga said the primary goal of prison industries is to transform inmates into productive citizens who have a skillset. But Neal argues that the current arrangement at NDOC is counterproductive – mainly because prisoners often come home penniless and at-risk.
"When ex-felons are released, where do they go?" Neal said in an interview with The Nevada Independent in April. "They go straight to Medicaid. They go straight to Casa Grande or a halfway house … They're looking for housing, they're looking for stability, and yet they worked in prison."
Neal argues that the arrangement is reminiscent of post-Civil War prison practices that capitalized on laws that criminalized freed African slaves for vagrancy or unemployment in the South in the late 1800s. She said not only does this harm inmates in the long run but it places a financial burden on the state to sustain their well-being upon release.
Inmates at NDOC are paid between 25 cents to $5.15 an hour by Silver State Industries and are given the remainder of their earnings after deductions to pay restitution to victims, "room and board" and 5 percent toward the expansion of prison industries. Neal said inmates work at discounted rates that become whittled down only to be released back into a cycle of poverty.
"It made sense to me that if we're already using private industry – then why not give [prisoners] a livable wage?" she said.
Inmate testimonies
Last fiscal year, Silver State Industries brought in $47 million in revenue from inmate labor. Inmates can work for an auto shop, horse ranch, furniture shop, print shop or mattress shop, or they can take a job as maintenance workers for the prison among other things. Quenga said what makes Silver State Industries successful is getting the participants who work to change their mindset while gaining transferable skills – not the almighty dollar.
Quenga said he exhausts every chance to increase inmates' wages, but he added that inmates and civilians live in two different economies where one has the full financial responsibilities of being an adult and the other automatically receives food and shelter while in state custody for committing a crime.
"To afford them the same opportunity as a free person — to me, it's not fair," said Quenga.
During the Legislature's interim Judiciary Committee meeting in early April, four former inmates at NDOC gave testimonies about their experience working with Silver State Industries. They said the opportunity gave them valuable skills and did not complain about the pay.
Ronald Jane, a former horse ranch employee for Silver State Industries, said at the hearing that working gave his life meaning while incarcerated and that he was able to stay away from problems at the prison. He said he started at 60 cents an hour and, through an evaluation process every three months, worked his way up to $3.56 an hour.
"Now out here, of course, that doesn't sound like much, but in there, I was able to live like a king," he said.
After working six years at NDOC, Jane said he left prison with $15,000 in his bank account, even after sending money back to loved ones while incarcerated. He said upon release, he easily secured an apartment and was able to jumpstart his life. Jane also worked as a wildland firefighter for three years before working at the ranch during his 10-year prison term.
At the hearing, Jacquin Webb said he spent two decades in prison and was released with about $15,000 after working for Silver State Industries from 2008 to 2019, starting off as a safety and hazard material clerk. Webb and former prisoners who testified said jobs with Silver State Industries were highly sought after by inmates.
"The desire for [a job at] prison industries is huge in prison," said Webb.
He said he worked his way up to the administrative clerk position where he stayed until his release. That experience with computers, he said, led him to his current job with a logistics company. Webb said considering the skills inmates gain, the growth of prison industries is important, stating that he watched it grow from 110 employees to about five times that size.
"Nothing but value there," Webb said. "​​I think that it's one of the greatest gifts we had."
In a follow-up interview with The Nevada Independent, Neal said her argument was not based on whether inmates liked to work while incarcerated, but on NDOC upholding convict leasing practices. She said she is considering bringing back her bill from last year that would require inmates to get paid a livable wage.